Aura Air is an innovative air purifier company focused on providing clean air through the use of smart air quality sensors and high-quality filtration. The company's units detect the quality of the air around them and then adjust their settings to improve it. This approach sets Aura Air apart and makes it one of the most interesting new air purifier brands on the market today. Here's what you need to know about the lineup of Aura Air purifiers and their features.
Aura Air Mini Air Purifier
One of Aura Air's innovative products is its Mini Air Purifier. This purifier can easily fit into a bag or purse and provides coverage for up to 107 square feet of space. The Aura Air Mini also uses bipolar ionization technology, making it a low-maintenance option for clean air on the go.
Product Highlights
107 square foot coverage capacity
5-6 hours of battery life
4.5x3x3 inch size, weighing just 0.7 pounds
Unique adaptive ionizer technology
The Aura Air Mini's ionizer technology is surprisingly powerful for such a small unit. This tiny air purifier automatically detects particles in the air around you, then releases the right levels of positive and negative ions to combat viruses, bacteria, mold spores and other potential health hazards.
In addition to this powerful technology, the Aura Air Mini also features a traditional prefilter to remove hair, dirt, dander, pollen and other large particles. Together, these two approaches to air cleaning make the Aura Air Mini an excellent solution for clean air on the go.
Aura Air Smart Air Purifier and Monitor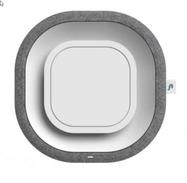 A big brother to the Mini, Aura Air's Smart Air Purifier is a combination air purifier and indoor air quality monitor. This unit's 4-stage filtration makes it a good choice for targeting a wide range of different pollutants, while its monitoring capabilities will allow you to gain insights into the quality of your home air.
Product Highlights
600 square foot coverage capacity
99.998 percent effective against SARS-CoV-2 and Influenza A viruses
UV-C germicidal LEDs
Ability to integrate multiple units through add-on software dashboard
The Aura Air Smart Air Purifer's filtration system begins with a standard prefilter for large particles. Next is Aura Air's patented HEPA Ray filter, which uses specialized antibacterial filter material to target everything from germs to fine particulate matter. A set of UVC LEDs then cleanse the air passing through the purifier with germicidal UV-C light, allowing it to further target germs, viruses and mold spores. The Smart Air Purifier also features the same adaptive ionization technology as the Mini.
Beyond its powerful filtration, The Aura Air Smart Air Purifier can be used as an indoor air quality monitor when connected to a WiFi network. Using Aura Air's dashboard software (see below), the Smart Air Purifier can deliver helpful insights on your indoor air quality. This dashboard can also be used to connect multiple units in a commercial setting, school or large home.
A final unique feature of the Smart Air Purifier is the fact that it can monitor outdoor air quality simultaneously. With this capability, the air purifier can detect the pollutants that are most common outside your home at any given moment and adjust its settings accordingly. This, combined with its indoor air quality sensors, adds an extra layer of data-driven protection.
Aura Air Enterprise Dashboard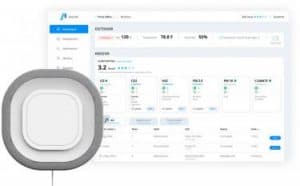 As noted above, the Aura Air Enterprise Dashboard allows you to get the most from your Aura Air Smart Air Purifier. This software package allows you to monitor and manage your air purifiers from a single, user-friendly dashboard. In this dashboard, you'll see readings of temperature, humidity, fine particulate matter and other air quality factors. This software is highly recommended as an add-on when purchasing an Aura Air Smart Air Purifier, as it will enable the most efficient use of your unit.
Note: When purchasing software, we recommend one software package per Smart Air Purifier you are using. All units can be monitored from a single dashboard, but each requires its own connected software package.
Aura Air Purifier Stands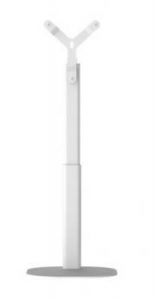 In addition to high-tech air purifiers and software, Aura Air also offers two air purifier stands to hold your Smart Air Purifier. The smaller stand is 14.7 inches high and is meant for desks, tables or travel use. The larger stand is meant for free-standing floor use and is 35.1 inches tall. Both stands are easy to assemble and require no drilling or installation.
With its focus on technology and user-friendly convenience, Aura Air has created a line of intuitive air purifiers that can help to provide you with clean air at home or on the go. Have questions about which Aura Air products are right for you? We're here to help! Feel free to contact us with your questions, and we'll be happy to provide you with answers and product recommendations based on your needs.
credit :Source link